---
Note the menu bar across the top of the screen. As you place your cursor on each one, a drop-down menu will appear. Click on the drop-down menu item to access the data.

We now have 3,512 members in all 50 states, DC, and 12 foreign countries! Our members have run a combined total of more than 212,000 marathons! (demographics)

Dues:
2014 Renewal forms are going out in the Winter 2013 issue. Please fill out the Member Profile and return it with your $10 annual dues. If you have misplaced your renewal form, you can print out the form from the web site.
Renewal Form Members in foreign countries, please use the online renewal option or pay in US cash. The bank charges $20 to convert funds from non-US banks..

You can check your membership renewal date on the membership page. Choose "Members" and look on the right hand column under "Paid thru".
Click for Members List

Online membership renewal is now available. Click here. This service is for club members only. Members in foreign countries, please use this option or pay in US cash. The bank charges $20 to convert funds from non-US banks.

Newsletter:
The Spring 2014 50 States Marathon Club Newsletter has been mailed. Please email Paula Boone batzrunner@aol.com if you have not received the issue after the end of May and she will make sure you receive a copy. Please note that the format is a color newspaper that is bulk-mailed and presorted by zip code. Editor, Lois Berkowitz, is (gratefully) looking for contributions. gberkowitz336393@comcast.net You can find older issues of the newsletter by choosing "Newsletters" in the dropdown menu.

Finisher's Certificate:
All member finishers in good standing will receive a complimentary custom finisher's certificate. This certificate will be sent to all members who have completed the states. This includes everyone who has completed the states to date, and all members who complete the states in the future. To receive your certificate, you must be a member in good standing (current on your dues), and contact Dave Bell by email at run26.2dave@gmail.com Please include: your name as you want it printed on the certificate, your hometown city and state (when you finished), the number of times you finished, the name of your finishing marathon, the location (city, state), the date of your finish, and your mailing address. (form) For those members who would like to purchase an additional copy, the price will be $6 each.
Certified Finisher Certificate Sample
Finisher Certificate Sample

Scheduled reunion marathons:
Hatfield-McCoy Marathon--Goody, KY/Williamson, WV 6/14/14 http://p9.hostingprod.com/@hatfieldmccoymarathon.com/
Thank you to David Hatfield and the race committee for a great reunion event! Our members had a great time!

Kona Marathon--Kona, HI 6/22/14
https://www.konamarathon.com/
ALOHA and MAHALO! Thanks to Sharron Faff and her staff for the wonderful reunion!

Indianapolis Monumental Marathon--Indianapolis, IN 11/1/14
www.monumentalmarathon.com

Zydeco Marathon--Lafayette, LA 3/8/15 NEW DATE
www.zydecomarathon.com Discount fee of $70 with code: 50StateZydeco2015

Kalamazoo Marathon--Kalamazoo, MI 5/3/15
www.thekalamazoomarathon.com

Future possiblities:
Do you have a suggestion for 2014 reunions?

Please offer your suggestions and help organize or volunteer at a reunion marathon in your home state. Please contact Dave Bell run26.2dave@gmail.com

Booths at expos:
Stop by to visit, update states, meet members and encourage others to join the club!

---
Events directed by our members

Texas Marathon-Kingwood, TX 01/01/15
Steve&Paula Boone
www.50statesmarathonclub.com/texas.html

Zoom! Yah! Yah! Indoor Marathon--Northfield, MN 01/11/15
Dick Daymont dick@northfieldrunning.com
http://www.zoomyahyah.com/

Kahtoola Wasatch Winter 50K/5K--Midway, UT 01/?/15
John Bozung
www.squawpeak50.com

Miracle Match--Waco, TX 01/25/15
Nancy Goodnight
http://miraclematchmarathon.org/

Town of Celebration Marathon--Celebration, FL 01/25/15
Ken Zambito
www.celebrationmarathon.com

Groundhog Day--Grand Rapids, MI 02/01/15
Don Kern
http://www.groundhogmarathon.com/

Tallahassee--Tallahassee, FL 02/08/15
Jack McDermott
www.tallahasseemarathon.com

Post Oak (50K)--Tulsa, OK 03/07/15
Johnny Spriggs
www.postoakrun.com

Post Oak (26.2)--Tulsa, OK 03/08/15
Johnny Spriggs
www.postoakrun.com

MCF (Fox Cities Marathon - backwards)--Neenah, WI 03/?/15
Steve Engel http://www.pacesettersrun.org/raceseries.htm#mcf.anchor

Seabrook Lucky Trail--Seabrook, TX 03/15/15
Robby Sabban
www.seabrookmarathon.org

Dustbowl Series--Dalhart, TX/Guymon, OK/Ulysses, KS/Lamar, CO/Clayton, NM 03/25-29/14
Clint Burleson
http://mainlymarathons.com/dust_bowl_series

Yakima River Canyon--Yakima, WA 03/28/15
Bob & Lenore Dolphin
http://www.ontherunevents.com/yrcm/

Davy Crockett Bear Chase--Groveton, TX 04/?/15
Steve & Paula Boone
http://www.50statesmarathonclub.com/bear.html

Glacier Ridge Trail Ultra--Butler, PA 04/?/15
Dan Adley
http://www.glacierridgetrailultra.com/

Carmel--Carmel, IN 04/18/15
Todd Oliver
www.carmelmarathon.com

BPAC 6 Hr Distance Classic--Buffalo, NY 04/?/15
Carl Pegels www.wny-ultra.org/bpac
mgunther@buffalo.edu

Frisco Fifty 50M/50K/26.2/13.1/10M-Springfield, MO 04/?/15
Richard Johnson
http://www.omrr.org/

Lake Waramaug Ultra Races 50K, 50M, 100K - New Preston, CT 04/26/15
Carl Hunt 860-355-8847 huntcarl@sbcglobal.net
http://lakewaramaugultra.com/

Runs with Scissors--Henderson, CO 05/02/15
Bill Morton
http://runswithscissorsraces.weebly.com/

Shiprock--Shiprock, NM 05/?/15
Tom Riggenbach
http://shiprockmarathon.com/

Tacoma City--Tacoma, WA 05/03/15
Tony Phillippi
www.tacomacitymarathon.com

Bob Potts--York, PA 05/?/15
Clay Shaw
http://www.bobpottsrun.com/

Walker Only (50K/26.2/13.1)--St. Cloud, MN 05/?/15 Dave Daubert
http://walkonmn.org/marathon/general.html tonkatails@aol.com

Wyoming--Laramie, WY 05/?/15
Brent Weigner
www.angelfire.com/wy2/marathon

Squaw Peak 50M Trail- Provo, UT 06/07/14
John Bozung
www.squawpeak50.com

Deadwood Mickelson Trail (26.2/13.1) -Deadwood, SD 06/07/15
Emily Wheeler
Jerry Dunn
www.deadwoodmickelsontrailmarathon.com

Whitefish Point Marathon--Paradise, MI 06/13/15
Rob Klein
http://www.whitefishpointmarathon.org/ rockymtnrunner131@comcast.net

Black Hills 100 (100M/50M/50K)--Sturgis, SD 06/?/15 Jerry Dunn
www.blackhills100.com

Moosalamoo Ultra--Goshen, VT 08/2/14
John Izzo
www.moosalamooultra.com

Kat'cina Mosa 100K--Provo, UT 08/2/14
John Bozung
www.squawpeak50.com

Leading Ladies--Spearfish, SD 08/17/14
Elaine Doll-Dunn
www.leadingladiesmarathon.com

Skagit Flats--Burlington, WA 09/07/14
Terry Sentinella
www.skagitflatsmarathon.com

Boring--Boring, OR 09/14/14
Mike Strobel
www.boringmarathon.com

Center of the Nations--ND, SD, WY, MT, NE 9/17-9/21/14 Clint Burleson
http://mainlymarathons.com/

Crazy Horse--Hill City, SD 10/05/14
Emily Wheeler
Jerry Dunn
www.runcrazyhorse.com

Grand Rapids--Grand Rapids, MI 10/19/14
Don Kern
www.grandrapidsmarathon.com

Frankenthon Monster--Cedar Park, TX 10/18/14
Frank Livaudais
www.frankenthon.com

Stone Steps 50K--Cincinnati,OH 10/26/14
David Corfman
www.stonesteps50k.com
rd@stonesteps50k.com

Day of the Dead 4 Days--Las Cruces, NM 10/27/14-11/02/14
Clint Burleson
http://mainlymarathons.com/

Indianapolis Monumental--Indianapolis, IN 11/01/14
Carlton Ray
www.monumentalmarathon.com

Two Cities (50K/26.2/13.1)--Fresno, CA 11/02/14
Nancy Talley & Mike Herman
www.runfresno.com

Raleigh City of Oaks--Raleigh, NC 11/02/14
Ron Wahula
http://cityofoaksmarathon.com/

Veteran's--Black Lick, PA 11/?/14
Tom Fetterman
http://indianaroadrunners.com/

Texas Quad--Dallas, TX 11/27-11/30/14
Angela Tortorice
www.running-the-distance.com

Baton Rouge Beach--Baton Rouge, LA 12/06/14
Craig Watson
www.brbeachmarathon.com

Bartram 100 Mile & 100K--Milledgeville, GA 12/14-15/13
Chris Lowery
http://bartram100.org/

Savage Seven--Ocala, FL 12/?/14-1/1/15
Bettie Wailes
www.savageseven.com

Houston 100 (100M/100K/50M/50K)--Houston, TX 12/27/14
Yen Nguyen
http://www.50statesmarathonclub.com/houston100.html



---
---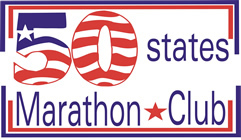 50 States Marathon Club
P.O.Box 15638 Houston, TX 77220-5638 www.50statesmarathonclub.com This web site provides information for the members of the 50 States Marathon Club. The club operates under the direction of a board of directors selected by the membership. The club is a non-profit organization dedicated to the promotion of health and fitness and the members share the common goal of running a marathon in each of the fifty states.

To join, a runner must have completed a marathon in at least

ten states.

To Join: Read the Rules, print an Application, complete the information and mail it in.
---
Feed back

Your input, ideas and voice are important to the formation of the club. We need members and volunteers to share their successes, concerns, and general thoughts regarding the sport of marathon running.
This site was developed and is maintained by American Computer Systems, Houston, TX please contact steveboone@aol.com for any changes or corrections.

Board of Directors
Lois Berkowitz-President/newsletter gberkowitz336393@comcast.net (picture)
Dave Bell-Vice President run26.2dave@gmail.com (picture)
Beth Davenport-Secretary/verification beth.eddiesfan@gmail.com (picture)
Steve Boone-Treasurer steveboone@aol.com (picture)
Paula Boone-membership batzrunner@aol.com (picture)
Mike Swanson-board member
windupmike@comcast.net (picture)
Brad Schwartz-board member
b.radg1@yahoo.com (picture)

Incorporated 3/30/2001
---
---
Personals
"Marathon Man" article features Frank Bartocci and his 600th marathon. (article) -posted 7/17/14

"Hawaii 5-0" article featured the club reunion and Jeff Ward's finish in Kona. (article) -posted 6/30/14

"50 Marathons in 50 States" interview updates the progress of Randell Hansen on his goal. (interview) -posted 5/21/14

"Runners make a 'state'ment" features Delaware club members Laura Schneider and Linda Schwartz-Chi. (article) -posted 5/19/14

"Boston to cap Chupka's 50 in 50" article features Gina Chupka who (finally) completed the states at Boston this year. (article) She is also featured in an article about Boston in the April 21, 2014 issue of Sports Illustrated. -posted 4/28/14

"Local Boston Marathon finishers -- including marriage proposal on Heartbreak Hill" features John Volkman. (article) (video - 2nd video on page) (video before race) (video) -posted 4/22/14

PHS grad nears 100th marathon" article features Jim Miller. (article) -posted 3/26/14

"Damascus runner Michael Strobel finishes marathons in 50 states" article features club member. (article) -posted 3/11/14

We send our love and sympathy to John Connor on the loss of his mother on 2/20/14. -posted 3/11/14

---
------------ Notices -------------
Walt Prescott is the North American Coordinator for the World Mega Marathon Ranking. He has created a web site to post the totals of marathoners who have completed 300+ marathons/ultras.
(link) If you are nearing your 300th marathon/ultra or have completed more than 300 marathons, please contact Walt to be included on the list. runninglongnh@yahoo.com

Members,
We have added a new section to the web site called "All in the Family". There you can find 50 States Marathon Club members who have family connections to other club members. You can find it on the drop down menu under Membership and it's called Families.

Want to know where you're ranked by marathon count, who's birthdays are coming up, ages our members finished the states, and all kinds of demographics? We have a feature to the club web site called Demographics. Click on Membership on the drop down menu. This is an ongoing project and we add functions to it occasionally. Play with it at your leisure. Send us updates to your marathon count, states completed, location where you completed the states, etc. Updates to our database are done nearly daily. If you haven't done so, please send us a digital photo to add to the membership list. It helps members recognize each other at the races. .jpg works best.
Membership list

Members!! The club has secured an arrangement with Hometown Threads to offer discounted embroidered merchandise to our members. You can choose from apparel, jackets, bags, totes, etc. with our 50 States Marathon Club logos. You can also have your name embroidered on the apparel for a small additional fee. You can order directly from the web site. If you prefer to add additional text or FINISHER, please specify in the "Additional Instructions" field in the order form online. Hometown Threads will contact you directly about any questions you have concerning your order. They also have a large logo available for the back of jackets and heavier items.
http://www.companycasuals.com/50statesmarathonclub/

Jerry Greenwald has put together a Yahoo! group for our members. This is a site where you can post questions, blogs, comments, pictures, polls, etc. You will have to set up a free Yahoo! user and join the 50statesmarathonclub group. Any questions email Jerry at born2runinbldr@yahoo.com

Beth Davenport is working to help folks find missing results for certification. Please contact her if you cannot find old marathon results and she may be able to find the results. beth.eddiesfan@gmail.com

----- Deals for our members-------
Discounts to races are offered exclusively for our members in good standing. Membership is verified by the individual races.

Beth Davenport has had a good response from her local running club about a "buddy system" to have a New Mexico "buddy" for our club members travelling to New Mexico for any of their marathons. beth.eddiesfan@gmail.com

8/16/14 Old Farts Marathon--Fallsburg, MI is offering a $5 discount for our members. Choose the 50 States Marathon Club discount option on the mail in form. http://www.fallsburghalf.8k.com/whats_new_2.html

8/17/14 Big Wild Life Runs--Anchorage, AK is offering a $5 discount for our members. Use the code: BWLR50 for the online registration.
www.bigwildliferuns.org

9/7/14 10th Annual Two Bear Marathon--Whitefish, MT is offering a discount price of $65 if you register by 2/28/14 and a discount price of $75 3/1/14-7/31/14. To receive the discount, email Michaelann Lee at 2bearmarathon@whitefishwave.com for information.
www.twobearmarathon.org
9/7/14 Sioux Falls Marathon--Sioux Falls, SD is offering a $10 discount. Use the code: SFMHM50.
http://www.siouxfallsmarathonhalfmarathon.com/

9/13/14 Oregon Marathon--Mt. Angel OR (close to Portland) is offering a 50% off discount to our members if you register by 8/1/14. Use code: 50STATESOREGON Starts and finishes in the Oktoberfest Festival with value coupons worth $35 of food, drink, parking passes. Finisher medals and Event shirts for all participants.
www.theoregonmarathon.com

9/14/14 Boring Marathon--Boring, OR Discounts will be available for 50 States Marathon Club members. Registration opens soon. Contact Mike Strobel at racedirector@boringmarathon.com
www.boringmarathon.com

9/27/14 Monument Marathon--Gering/Scottsbluff, NE is offering a discount for our members. Use the code: 50States2014.
www.monumentmarathon.com

9/27/14 Adams County--West Union, OH is offering a discount of $25 for the half. Use the code: halfrunner. There is a discount of $30 for the marathon. Use the code: fullrunner.
http://www.adamscountytravel.org/Adams-County-Half-Marathon.shtml

9/28/14 Adirondack Marathon--Schroon Lake, NY is looking for pacers. They need pacers for 3:30, 3:45, 4:00, 4:15, 4:30, 4:45, 5:00, 5:15 and 5:30. Must have: previous experience on hilly courses, previous times 20-30 mins faster than the group you are pacing, and an ability to remain positive and encouraging. You will receive: a free entry, free Pace Bear tee, free pasta dinner, lots of warm fuzzies, opportunity to be part of "the friendliest" marathon on the planet. Contact Laura Clark lclark@sals.edu or 518-581-1278.
www.adirondackmarathon.org

10/5/14 Run Crazy Horse Marathon--Black Hills, SD Run Crazy Horse, Marathon, Half Marathon and Marathon Relay- Oct. 5th 2014 Black Hills, South Dakota $10 Discount for 50 States Marathon Club Members! At 8 AM on October 5, 2014, the sound of native drums will send you on your way for a run through the sacred land of the Lakota people. Your adventure will begin in the shadow of the world's largest mountain carving….Crazy Horse Memorial, and end in The Heart of the Hills…..Hill City, South Dakota. Begin making plans now to be part of this unforgettable experience. Discount available until August 15th TO REGISTER: Please visit https://secure.getmeregistered.com/get_information.php?event_id=11151. At Checkout, please enter the following information in the "Discount Code" box to receive the $10 discount: RCH2014
Event information: www.RunCrazyHorse.com
Other Questions: Director@RunCrazyHorse.com

10/18/14 Kansas City Marathon--Kansas City, MO is offering a 15% discount for our members. Use the code: DKRXW6Z8 www.waddellandreedkansascitymarathon.org

1/11/15 First Light Marathon--Mobile, AL is offering a discount for our members. Use the code: 50staters15
www.firstlightmarathon.com

3/8/15 Zydeco Marathon--Lafayette, LA is offering the discount price of $70 for our club members for registration. Use the code: 50StateZydeco2015.
www.zydecomarathon.com


------Invitations to our members-----

If any 50 States Marathon Club members or their families are interested in the ultimate running tour of Chicago from City Running Tours-Chicago, Marlin Keesler will personally set them up with generous discounts no one else gets (only for contacts directly connected with the 50 States Marathon Club). familyquest@att.net
http://cityrunningtours.com/chicago.html

You can order an autographed copy of Dane Rauschenberg's book, See Dane Run (order from Paypal). Or you can order from his blog: www.danerunsalot.blogspot.com

I'd like your help in promoting my autobiography, Running through My Mind: Confessions of an Every Day Runner. After 105,000+ miles and (literally) running every day for over 28 years, I think I've managed to compile the complete book of running. From Peachtree to Boston to a 'run across Georgia' to 24-hour endurance runs to Badwater to Western States—I've managed to taste a little bit of everything running has to offer in my quest to cover the spectrum in my running career (which is still going strong, by the way). I would appreciate it if you would forward this to the members of your running club as well as anyone else you believe might be interested or in need of a little motivation, a little inspiration, and a whole lot of entertainment. Thanks in advance for your support. -Scott Ludwig Available now on www.amazon.com 100% of author royalties will be donated to the American Cancer Society and the American Heart Association in memory of the author's parents.

Kevin Smith with Your Run is looking for marathon stories. If you have a running story you would like to share, or would like to read other runners' stories, check out their website.
http://www.yourrun.com/

Bethann Powers is offering 20% off each item of her "Uniquely Colorful Activewear". www.runningfunky.com

From Fairbanks to Boston - 50 Great U.S. Marathons This book provides a fun and informative "where to" resource about marathon experiences. Available for $16.95 (+$4 shipping - US) from dolphinmteam@earthlink.net or 425-226-1518 or 509-966-0188 -Bob&Lenore Dolphin

Our Life on the Run
This is Marlin Keesler's story of running all 50 states -a six and a half year race across America that he and his family would embark on - one in which the benefits of travel would do more for his two children afflicted with a rare learning disorder than any classroom could offer.
(book)

Heading Toward the Final Finish Line
Book about Rick Karampatsos' run through the 50 states and crossing the many finish lines throughout life.
602 E. Alexander St. Plant City, FL 33563
$15.99 (free S/H) and copy will be autographed.
http://www.june3rd.com/blogs/

The Mad Man, The Marathoner - The Life of Marathoner Donald P. NcNelly book by Juanita Tischendorf is now available. (book)

Finish Line Feeling is a book by Liz Ferro, founder of Girls with Sole. (book)