---
Note the menu bar across the top of the screen. As you place your cursor on each one, a drop-down menu will appear. Click on the drop-down menu item to access the data.

We now have 3,893 members in all 50 states, DC, and 15 foreign countries! Our members have run a combined total of more than 238,000 marathons! (demographics)

Dues:
2015 Renewal forms went out in the Spring 2015 issue. Please fill out the Member Profile and return it with your $10 annual dues. If you have misplaced your renewal form, you can print out the form from the web site.
Renewal Form Members in foreign countries, please use the online renewal option or pay in US cash. The bank charges $20 to convert funds from non-US banks.

You can check your membership renewal date on the membership page. Choose "Members" and look on the right hand column under "Paid thru".
Click for Members List

Online membership renewal is now available. Click here. This service is for club members only. Members in foreign countries, please use this option or pay in US cash. The bank charges $20 to convert funds from non-US banks.

Newsletter:
The Fall 2015 50 States Marathon Club Newsletter has been mailed. Please email Paula Boone batzrunner@aol.com if you have not received the issue by the end of November and she will make sure you receive a copy. Please note that the format is a color newspaper that is bulk-mailed and presorted by zip code. Editor, Lois Berkowitz, is (gratefully) looking for contributions: lberkowitz@toast.net You can find older issues of the newsletter by choosing "Newsletters" in the dropdown menu.

Finisher's Certificate:
All member finishers in good standing will receive a complimentary custom finisher's certificate. This certificate will be sent to all members who have completed the states. This includes everyone who has completed the states to date, and all members who complete the states in the future. To receive your certificate, you must be a member in good standing (current on your dues), and contact Dave Bell by email at run26.2dave@gmail.com Please include: your name as you want it printed on the certificate, your hometown city and state (when you finished), the number of times you finished, the name of your finishing marathon, the location (city, state), the date of your finish, and your mailing address. (form) For those members who would like to purchase an additional copy, the price will be $6 each.
Certified Finisher Certificate Sample
Finisher Certificate Sample

Scheduled reunion marathons:
Myrtle Beach Marathon--Myrtle Beach, SC 3/5/16
http://mbmarathon.com/wordpress1/

Glass City Marathon--Toledo, OH 4/24/16
http://glasscitymarathon.org/

Santa Rosa Marathon--Santa Rosa, CA 8/28/16
www.thesantarosamarathon.com

Future possiblities:
Do you have a suggestion for 2014 reunions?

Please offer your suggestions and help organize or volunteer at a reunion marathon in your home state. Please contact Dave Bell run26.2dave@gmail.com

Booths at expos:
Stop by to visit, update states, meet members and encourage others to join the club!
Route 66 Marathon--Tulsa, OK 11/22/15
Stop by the booth to receive your wrist band to access Maniac Corner!
http://route66marathon.com/

---
Events directed by our members

Texas Marathon-Kingwood, TX 01/01/16
Steve&Paula Boone
www.50statesmarathonclub.com/texas.html

Zoom! Yah! Yah! Indoor Marathon--Northfield, MN 01/10/16
Dick Daymont dick@northfieldrunning.com
http://www.zoomyahyah.com/

Miracle Match--Waco, TX 01/31/16
Nancy Goodnight
http://miraclematchmarathon.org/

Kahtoola Wasatch Winter 50K/5K--Midway, UT 01/30/16
John Bozung
www.squawpeak50.com

Town of Celebration Marathon--Celebration, FL 01/31/16
Ken Zambito
www.celebrationmarathon.com

Groundhog Day--Grand Rapids, MI 02/06/16
Don Kern
http://www.groundhogmarathon.com/

Tallahassee--Tallahassee, FL 02/07/16
Jack McDermott
www.tallahasseemarathon.com

Post Oak (50K)--Tulsa, OK 02/27/16
Johnny Spriggs
www.postoakrun.com

Post Oak (26.2)--Tulsa, OK 02/28/16
Johnny Spriggs
www.postoakrun.com

Seabrook Lucky Trail--Seabrook, TX 03/20/16
Robby Sabban
www.seabrookmarathon.org

Dustbowl Series--Dalhart, TX/Guymon, OK/Ulysses, KS/Lamar, CO/Clayton, NM 03/23-27/16
Clint Burleson
http://mainlymarathons.com/dust_bowl_series

Yakima River Canyon--Yakima, WA 04/02/16
Bob & Lenore Dolphin
http://www.ontherunevents.com/yrcm/

Davy Crockett Bear Chase--Groveton, TX 04/23/16
Steve & Paula Boone
http://www.50statesmarathonclub.com/bear.html

Cape Cod Trail--Falmouth, MA 04/10/16
Carl Gustafson
www.capecodtrailrace.com

Carmel--Carmel, IN 04/16/16
Todd Oliver
www.carmelmarathon.com

Frisco Fifty 50M/50K/26.2/13.1/10M-Springfield, MO 04/30/16
Richard Johnson
http://www.omrr.org/

Lake Waramaug Ultra Races 50K, 50M, 100K - New Preston, CT 04/?/16
Carl Hunt 860-355-8847 huntcarl@sbcglobal.net
http://lakewaramaugultra.com/

BPAC 6 Hr Distance Classic--Buffalo, NY 04/?/16
Carl Pegels http://www.wny-ultra.org/
mgunther@buffalo.edu

Runs with Scissors--Brighton, CO 04/30/16
Bill Morton
http://runswithscissorsraces.weebly.com/

Shiprock--Shiprock, NM 05/07/16
Tom Riggenbach
http://shiprockmarathon.com/

Tacoma City--Tacoma, WA 05/03/15
Tony Phillippi
www.tacomacitymarathon.com

Oh Boy--Waterbury, CT 05/04/15
Eugene DeFronzo
www.50statesmarathonclub.com/ohboy.html

Glacier Ridge Trail Ultra--Butler, PA 05/?/16
Dan Adley
http://www.glacierridgetrailultra.com/

New England Series--ME,NH,VT,MA,CT,RI,NY 05/15-21/16
Clint Burleson
http://mainlymarathons.com/series-3/new-england/

New England Challenge--ME, NH, RI, CT, MA 05/16-20/16
Chuck Savage
www.newenglandchallenge.org

Walker Only (50K/26.2/13.1)--St. Cloud, MN 05/21/16 Dave Daubert
http://walkonmn.org/marathon/general.html tonkatails@aol.com

Texas Triple--Dallas, TX 5/?/16
Angela Tortorice
www.running-the-distance.com

Wyoming--Laramie, WY 05/24/15
Brent Weigner
www.angelfire.com/wy2/marathon

Squaw Peak 50M Trail- Provo, UT 06/06/15
John Bozung
www.squawpeak50.com

Deadwood Mickelson Trail (26.2/13.1) -Deadwood, SD 06/07/15
Emily Wheeler
Jerry Dunn
www.deadwoodmickelsontrailmarathon.com

Whitefish Point Marathon--Paradise, MI 06/13/15
Rob Klein
http://www.whitefishpointmarathon.org/ rockymtnrunner131@comcast.net

Black Hills 100 (100M/50M/50K)--Sturgis, SD 06/27/15 Jerry Dunn
www.blackhills100.com

Moosalamoo Ultra--Goshen, VT 08/01/15
John Izzo
www.moosalamooultra.com

Kat'cina Mosa 100K--Provo, UT 08/01/15
John Bozung
www.squawpeak50.com

Leading Ladies--Spearfish, SD 08/16/15
Elaine Doll-Dunn
www.leadingladiesmarathon.com

New England Series--Sanford, ME; Greenfield, NH; Springfield, VT; Northfield, MA; Simsbury, CT; Coventry, RI; New Paltz, NY 08/24-30/15
Clint Burleson
http://mainlymarathons.com/series-3/new-england/

Okie Trail Shuffle--Coalgate, OK 09/05-09/07/15
Kathryn Ivey
www.50statesmarathonclub.com/okie.html

Skagit Flats--Burlington, WA 09/13/15
Terry Sentinella
www.skagitflatsmarathon.com

Boring--Boring, OR 09/13/15
Mike Strobel
www.boringmarathon.com

Queen City Marathon--Regina, SK, Canada 09/13/15
Darwin & Terry Weimer
http://www.runqcm.com/

Center of the Nations--MT, ND, SD, WY, NE, CO 9/14-9/19/15 Clint Burleson
http://mainlymarathons.com/

Crazy Horse--Hill City, SD 10/04/15
Emily Wheeler
Jerry Dunn
www.runcrazyhorse.com

Grand Rapids--Grand Rapids, MI 10/18/15
Don Kern
www.grandrapidsmarathon.com

Frankenthon Monster--Cedar Park, TX 10/24/15
Frank Livaudais
www.frankenthon.com

Stone Steps 50K--Cincinnati,OH 10/25/15
David Corfman
www.stonesteps50k.com
rd@stonesteps50k.com

Day of the Dead 4 Days--Las Cruces, NM 10/31/15-11/06/15
Clint Burleson
http://mainlymarathons.com/

Two Cities (50K/26.2/13.1)--Fresno, CA 11/01/15
Nancy Talley & Mike Herman
www.runfresno.com

Raleigh City of Oaks--Raleigh, NC 11/01/15
Ron Wahula
http://cityofoaksmarathon.com/

Indianapolis Monumental--Indianapolis, IN 11/07/15
Carlton Ray
www.monumentalmarathon.com

Veteran's--Black Lick, PA 11/08/15
Tom Fetterman
http://indianaroadrunners.com/

Healthy Driven Naperville Marathon - Naperville, IL 11/08/15
Tom Minichiello
http://naperville26.com/

Texas Quad--Dallas, TX 11/26-11/29/15
Angela Tortorice
www.running-the-distance.com

Baton Rouge Beach--Baton Rouge, LA 12/5/15
Craig Watson
www.brbeachmarathon.com

Houston 100 (100M/100K/50M/50K)--Houston, TX 12/19/15
Yen Nguyen
http://www.50statesmarathonclub.com/houston100.html

The Texas Double--Dallas, TX 12/19-20/15
Angela Tortorice
http://www.running-the-distance.com/

First Day of Winter 50K--Portsmouth, OH 12/20/15
Jennifer Hatcher
https://ultrasignup.com/register.aspx?did=31397

Savage Seven--Ocala, FL 12/26/15-1/1/16
Bettie Wailes
http://www.savagesevenmarathons2014.com/

---
---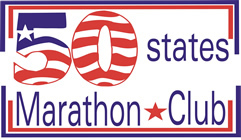 50 States Marathon Club
P.O.Box 15638 Houston, TX 77220-5638 www.50statesmarathonclub.com This web site provides information for the members of the 50 States Marathon Club. The club operates under the direction of a board of directors selected by the membership. The club is a non-profit organization dedicated to the promotion of health and fitness and the members share the common goal of running a marathon in each of the fifty states.

To join, a runner must have completed a marathon in at least

ten states.

To Join: Read the Rules, print an Application, complete the information and mail it in.
---
Feed back

Your input, ideas and voice are important to the formation of the club. We need members and volunteers to share their successes, concerns, and general thoughts regarding the sport of marathon running.
This site was developed and is maintained by American Computer Systems, Houston, TX please contact steveboone@aol.com for any changes or corrections.

Board of Directors
Lois Berkowitz-President/newsletter
lberkowitz@toast.net (picture)
Dave Bell-Vice President run26.2dave@gmail.com (picture)
Beth Davenport-Secretary/verification beth.eddiesfan@gmail.com (picture)
Steve Boone-Treasurer steveboone@aol.com (picture)
Paula Boone-membership batzrunner@aol.com (picture)
Mike Swanson-board member
windupmike@comcast.net (picture)
Brad Schwartz-board member
b.radg1@yahoo.com (picture)

Incorporated 3/30/2001
---
---
Personals
"Celebrating with the Run of a Lifetime" article features Eddie Hahn's 200th marathon milestone on his 50th birthday. (article) -posted 11/30/15

"Massage Therapist Setas a Pace at New York City Marathon" article features Julia Khvasechko. (article) -posted 11/9/15

"The Best Training for a Marathon: A Marathon" article features Chris Warren and Gary Krugger. (article) -posted 11/5/15

"Eckerson: Newmarket's Charlie Nelson completes 200th marathon". Article features Charlie Nelson. (article) -posted 9/14/15

"Passion, determination fuel master marathoners' love of sport" features Darwin & Terry Weimer (video) -posted 9/8/15

"The 50 States Club" article in the July/August issue of The Saturday Evening Post features several club members and their 50 states goals: Frank Bartocci, Bettie Wailes, John Lent, Paula Boone, and Jim Simpson. (article) -posted 7/14/15

"Why Is this Man Running with Ashes" features Anders Forselius. (article) -posted 5/12/15

"City marathon: Around the park they went" features club members at the Oh Boy Marathon. (article) -posted 5/6/15
---
------------ Notices -------------
Members!! The club has secured an arrangement with Texas Promowear to offer discounted embroidered merchandise to our members. You can choose from apparel, jackets, bags, totes, etc. with our 50 States Marathon Club logos. Many items have been added. You can also have your name embroidered on the apparel for a small additional fee. You can order directly from the web site. They have a large logo available for the back of jackets and heavier items. They also have a "bling" logo available.
http://www.companycasuals.com/50statesmarathonclub/

Walt Prescott is the North American Coordinator for the World Mega Marathon Ranking. He has created a web site to post the totals of marathoners who have completed 300+ marathons/ultras.
(link) If you are nearing your 300th marathon/ultra or have completed more than 300 marathons, please contact Walt to be included on the list. runninglongnh@yahoo.com

Members,
We have added a new section to the web site called "All in the Family". There you can find 50 States Marathon Club members who have family connections to other club members. You can find it on the drop down menu under Membership and it's called Families.

Want to know where you're ranked by marathon count, who's birthdays are coming up, ages our members finished the states, and all kinds of demographics? We have a feature to the club web site called Demographics. Click on Membership on the drop down menu. This is an ongoing project and we add functions to it occasionally. Play with it at your leisure. Send us updates to your marathon count, states completed, location where you completed the states, etc. Updates to our database are done nearly daily. If you haven't done so, please send us a digital photo to add to the membership list. It helps members recognize each other at the races. .jpg works best.
Membership list

Jerry Greenwald has put together a Yahoo! group for our members. This is a site where you can post questions, blogs, comments, pictures, polls, etc. You will have to set up a free Yahoo! user and join the 50statesmarathonclub group. Any questions email Jerry at born2runinbldr@yahoo.com

Beth Davenport is working to help folks find missing results for certification. Please contact her if you cannot find old marathon results and she may be able to find the results. beth.eddiesfan@gmail.com

----- Deals for our members-------
Discounts to races are offered exclusively for our members in good standing. Membership is verified by the individual races.

Mainly Marathons is celebrating their 3rd anniversary and they are giving away a free marathon to anyone who wants one. No strings, just register at least 90 days in advance. See the web site for details.
http://mainlymarathons.com/

10/31-11/6/15 Mainly Marathons Day of the Dead Series--Las Cruces, NM is offering a $10 discount. Use the code: MMDISC http://mainlymarathons.com/

11/8/15 Gobbler Grind Marathon--Overland Park, KS is offering a $10 discount for members. Use the code: 50statesrocks
http://gobblergrindrun.com/ http://www.facebook.com/GobblerGrindRun

11/22/15 Route 66 Marathon--Tulsa, OK is offering a private VIP tent, professional group photo, private restrooms, private gear check, private supply of post-race food, Gatorade, water, soft drinks and lots of beer, and complimentary booth at the expo. Sign up by 9/30/15 as a member of the 50 States Marathon Club and receive a custom race number and special marathon finisher medal. Make sure to stop by the booth to receive your wristband to access the Maniac Corner!
http://route66marathon.com/

12/20/15 First Day of Winter 50K--Portsmouth, OH is offering a 10% discount. Use the code: stater10
https://ultrasignup.com/register.aspx?did=31397

1/9/16 Mississippi Blues Marathon--Jackson, MS is offering a $10 discount for the marathon and half. Use the code: Blues50.
www.msbluesmarathon.com

2/14/16 Mercedes Marathon--Birmingham, AL is offering a $5 discount. Use the code: 50statesmarathon2016. Code will expire 2/8/16.
www.mercedesmarathon.com

2/27-28/16 Cowtown Marathon--Fort Worth, TX is offering a discount for the Saturday and Sunday races. The code for the Saturday races is 16CT50StatesK. The code for the Sunday races is 16CT50StatesM. The codes will expire 1/22/16 at midnight CST.
www.cowtownmarathon.org

3/5/16 Myrtle Beach--Myrtle Beach, SC i offering a discount for a race fee of $85 through 1/1/16. 50STATER2016.
http://mbmarathon.com/wordpress1/

3/13/16 Zydeco Marathon--Lafayette, LA is offering a $25 discount. Use the code: 50states.
http://www.zydecomarathon.com/

3/19/16 Sand Hollow Marathon--Hurricane, UT is offering a $10 discount for our members. Use the code: fiftyplus.
http://www.sandhollowmarathon.net/

3/19-20/16 Seabrook Lucky Trail Marathon--Seabrook, TX is offering a 50 state challenge. One person from each state will have their registration refunded to them at packet pickup. You must show current ID in that state.
http://www.seabrookmarathon.org/

4/9/16 Martian Marathon--Dearborn, MI is offering a 10% discount for our members. Use the code MARS1650SC through 2/24/16.
http://www.martianmarathon.com/

4/24/16 Glass City Marathon--Toledo, OH is offering a $10 discount. Email Lois at lberkowitz@toast.net for the discount code.
http://glasscitymarathon.org/

4/30/16 Runs with Scissors Marathon--Brighton, CO is offering a free entry if you plan to complete the states there. Contact Bill Morton dr_bill_morton@yahoo.com for details.
http://runswithscissorsraces.weebly.com/

5/1/16 Eugene Marathon --Eugene, OR is offering a $10 discount. Register before 4/5/16. Email steveboone@aol.com for the code.
www.eugenemarathon.com

5/14/16 Brookings Marathon--Brookings, SD is offering a $10 discount. Check the "50 States" box during online registration. http://www.brookingsmarathon.com/ .

6/26/16 Kona Marathon--Kona, HI is offering a $10 discount for our members. Use the code: KMC10.
www.konamarathon.com

7/30/15 Idaho Falls M.A.D. Marathon--Idaho Falls, ID is offering a 10% discount for our members. Use the code: MADfor50 http://www.idahofallsmarathon.com/#!marathon/cjg9

8/21/16 Anchorage Run Fest--Anchorage, AK is offering a discount for our members. Use the code: ARF50.
http://www.anchoragerunfest.org/

------Invitations to our members-----
Runner's World is looking for runners who have qualified for the Boston Marathon in all 50 states. Is that you? If so, please email Megan Hetzel at Megan.Hetzel@rodale.com.

Beth Davenport has had a good response from her local running club about a "buddy system" to have a New Mexico "buddy" for our club members travelling to New Mexico for any of their marathons. beth.eddiesfan@gmail.com

If any 50 States Marathon Club members or their families are interested in the ultimate running tour of Chicago from City Running Tours-Chicago, Marlin Keesler will personally set them up with generous discounts no one else gets (only for contacts directly connected with the 50 States Marathon Club). familyquest@att.net
http://cityrunningtours.com/chicago.html

You can order an autographed copy of Dane Rauschenberg's book, See Dane Run (order from Paypal). Or you can order from his blog: www.danerunsalot.blogspot.com

I'd like your help in promoting my autobiography, Running through My Mind: Confessions of an Every Day Runner. After 105,000+ miles and (literally) running every day for over 28 years, I think I've managed to compile the complete book of running. From Peachtree to Boston to a 'run across Georgia' to 24-hour endurance runs to Badwater to Western States—I've managed to taste a little bit of everything running has to offer in my quest to cover the spectrum in my running career (which is still going strong, by the way). I would appreciate it if you would forward this to the members of your running club as well as anyone else you believe might be interested or in need of a little motivation, a little inspiration, and a whole lot of entertainment. Thanks in advance for your support. -Scott Ludwig Available now on www.amazon.com 100% of author royalties will be donated to the American Cancer Society and the American Heart Association in memory of the author's parents.

Kevin Smith with Your Run is looking for marathon stories. If you have a running story you would like to share, or would like to read other runners' stories, check out their website.
http://www.yourrun.com/

Bethann Powers is offering 20% off each item of her "Uniquely Colorful Activewear". www.runningfunky.com

From Fairbanks to Boston - 50 Great U.S. Marathons This book provides a fun and informative "where to" resource about marathon experiences. Available for $16.95 (+$4 shipping - US) from dolphinmteam@earthlink.net or 425-226-1518 or 509-966-0188 -Bob&Lenore Dolphin

Our Life on the Run
This is Marlin Keesler's story of running all 50 states -a six and a half year race across America that he and his family would embark on - one in which the benefits of travel would do more for his two children afflicted with a rare learning disorder than any classroom could offer.
(book)

Heading Toward the Final Finish Line
Book about Rick Karampatsos' run through the 50 states and crossing the many finish lines throughout life.
602 E. Alexander St. Plant City, FL 33563
$15.99 (free S/H) and copy will be autographed.
http://www.june3rd.com/blogs/

The Mad Man, The Marathoner - The Life of Marathoner Donald P. NcNelly book by Juanita Tischendorf is now available. (book)

Finish Line Feeling is a book by Liz Ferro, founder of Girls with Sole. (book)